Our Services
Offset Printing

At Printworks, commercial offset printing is our passion!
Commercial offset printing is our passion! Whatever your printing needs, we can print it: letterhead, envelopes, business cards, brochures, pocket folders and so much more.
Printworks offers black and white, spot PMS color, as well as full color printing on a wide variety of paper to deliver that perfect look. Let us help you put that extra touch to your unique image with die cutting, embossing, or foil stamping.
We also offer a full finishing department for all of your binding, folding and stitching needs.
Digital Color Printing

We're committed to meeting the demand for short run color printing.
Printworks is committed to meeting the demand for short run color printing which has become such an integral part of today's business. There are many advantages to digital printing with no loss of quality while maintaining the ability to print on a variety of paper stocks. The advantages are...
• Print only what you need. With digital printing you can now print short run, high quality images with little to no waste.
• No quantity is too small. Don't need 1,000 brochures or post cards? No problem. Request smaller quantities and only purchase what you need • Quick turnaround. Digital printing enables us to have a faster turnaround with prompt delivery on most print projects.
• Easy revisions. Digital printing is stored electronically so revisions to your files are made quickly and easily.
• Variable Data. Customize your printing for a more direct presence with your customers and get the extra attention you deserve.
Digital Black and White Copying

Let us help you find the right solution that will fit your budget.
Whether you need just a few copies, or more than a few hundred thousand, Printworks has the capabilities to produce high quality digital prints with a quick turnaround. Our commercial-quality, high-speed copy equipment provides sharp images at a surprisingly low cost.
Single-sided or double-sided copies and prints are available in all standard sizes and on a variety of paper stocks. Our standard sizes are considered 8 ½" x 11", 8 ½" x 14", and 11" x 17".
Each of our machines are equipped with a complete range of finishing options such as folding, collating, simple stapling, 3-hole drilling and saddle stitching. Our prices vary depending on size, quantity, paper stock and finishing.
Let us help you find the right solution that will fit your budget.
Graphic Design

Let our professional graphic designers use their creative abilities to improve your project.
Our professional graphic designers are true artists that know how to use their creative abilities to improve your project so it has that unique and special look. From logos and letterhead, to marketing brochures, newsletters and posters, we'll help you produce the perfect layout, color selection and design elements to bring your concept to life.
Creative use of color, typography, photos and illustrations can dramatically improve the effectiveness of your project. Good design can create a favorable impression that makes your company and its products and services stand out in a crowd.
Design is priced by the hour or by the project and varys based on the needs of each project.
Call or come by to set up a design consultation and let our skilled artist help make your next project something special.
Other Services
| | |
| --- | --- |
| • Mailing Services | • Custom Labels |
| • Laminating | • FAX Services |
| • Machine Stapling | • Machine Folding |
| • Programmable Machine Cutting | • GBC Binding |
| • Scanning | • Spiral Binding |
| • Self Inking Stamps & Hand Stamps | • Signage |
News and Events

Check here frequently for the latest updates
August 10, 2010
New Website Launched
On August 10, Printworks launched a new website at www.printwks.com to better serve our customers. The new website features file upload capability.
January 15, 2010
Heidelberg Press Installed
Printworks installed a state-of-the-art Heidelberg press that increased our capacity to deliver large run projects.
Testimonials

Quality is our most important product
"We love Printworks! They are always so helpful and courteous, and always go the extra mile to make sure we are completely satisfied. We rely on them for all our printing needs."
-Krista, CDC-Austin
"We have used Printworks for all our print projects for more than 6 years. We have always been happy with their work, and their pricing is extremely competitive. We highly recommend Printworks to anyone looking for a truly customer oriented printer."
-Deborah, NDSM
" Printworks produces flyers, brochures, business cards and color copies for us, sometimes on very short notice. Most of this work is related to visual arts, so color accuracy is very important. Not only is the color perfect every time, but the people at Printworks go the extra mile whenever we need it."
-Dr. Fred Sorrells www.iisport.org
"I'm very satisfied with the quality of the image reproductions done by Printworks for my portfolio."
-Don Bristow www.lightrayphotoimagery.com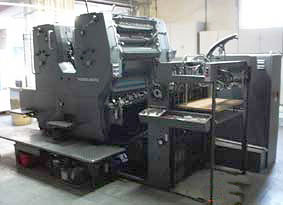 Heidelberg Press
Xerox Color Printer